Whether you listen during your commute, while you exercise, to unwind after your workday, or to keep your mind sharp while you complete repetitive or boring tasks – audiobooks are a great way to read. The right book – with the right voice! – can keep you spellbound, as if a good friend were telling you a story filled with excitement, sadness, humour, or wonder.
If you'd like to share an audiobook with your children...:
How did Hiccup Horrendous Haddock III become a Viking hero, warrior chieftain, (awesome) sword-fighter, and (amateur) naturalist, known throughout the Viking world as the immensely powerful "Dragon Whisperer"? How to Train Your Dragon, by Cressida Cowell is the first step to finding out! David Tennant (known to you Whovians out there as the Tenth Doctor) reads the whole series in his native Scottish accent. One listen, and I guarantee you'll be off to request the next audiobook in the series before you can say "Hairy Hooligans".
...or rediscover a children's classic, yourself: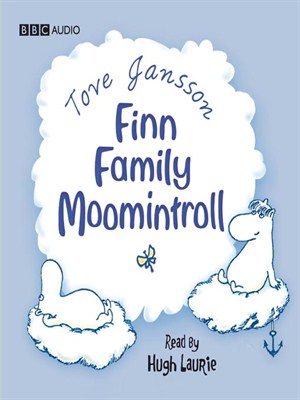 A magical top hat appears in Moominvalley, and Moomintroll, Snufkin, and Sniff discover that it can be used to transform anything – or anyone!  – into something else... Available as a downloadable audiobook, Tove Jansson's Finn Family Moomintroll is a treasure. Originally published in 1948 in Swedish, and first translated into English in 1961, this eccentric children's classic is brought fully to life with the theatrical range of acclaimed actor Hugh Laurie. Laurie has a great range of voices at his disposal, and delivers a surprising and touching rendition of the book – particularly the charming ending.
If you've always meant to read that one...:
In The End of the Affair by Graham Greene, Maurice Bendix and Sarah Miles share an intense adulterous affair during the London Blitz, which Sarah brings to an abrupt end. Years later, when their paths cross unexpectedly, his love turns into obsessive jealousy and the pieces begin to come together through an exploration of the meaning of love, hate, and God. The Ottawa Public Library has the new audiobook edition of this novel, read by Colin Firth. Obviously a great combination: last year, the recording won the Audie Award for Audiobook of the Year.
...or always wanted to hang out with a celebrity over coffee:
Rob Lowe's first memoir, Stories I Only Tell My Friends, won huge acclaim for its effortless combination of great stories and a disarming, self-effacing style. Now, since it's Rob Lowe, you might want to pick up the regular edition with all the accompanying photographs, but for the stories themselves I highly recommend listening to the actor personally sharing his anecdotes. This book is as funny and charming as you'd expect, but surprisingly down-to-earth and balanced in its perspective.
(In the interest of full disclosure, I should mention that I had Rob read me a few chapters the other evening while I made dinner. This review might be a little biased.)
A second memoir is on the way, Love Life:
Or maybe you're feeling a bit daunted picking up a book that's so very long:
Susanna Clark's historical fantasy, Jonathan Strange & Mr. Norrell, is a re-imagining of the 19th century: Specifically, how would the Napoleonic Wars have happened if England suddenly experienced a return of powerful magic... and very strong-minded magicians? In this engagingly written book, Clarke's characters deal not only with magic, but class hierarchies, military operations, academic egos, shifty faeries, madness, and love. The audiobook is beautifully read by English actor Simon Prebble, who includes all of the – often amusing and always informative – footnotes, which Clarke has added to enhance the fantastical scholarship of her book. Now, I happen to love the footnotes, but some readers may find them an unwelcome interruption. If that's the case, don't worry! Each footnote is introduced with the word "Footnote" and is its own track on the CD, making it easy for readers to skip one track ahead and return to the main narrative.
The Ottawa Public Library carries the entire series (so far!) of George R. R. Martin's A Song of Ice and Fire on CD and downloadable audiobook. This massive fantasy epic went from cult classic to international hit thanks to the HBO adaptation Game of Thrones. I read all the books using the downloadable audiobooks from the library. They are read by the astonishingly prolific actor Roy Dotrice, who met Martin while they both worked on the 80s television series Beauty and the Beast. If you're wondering just how much credit Dotrice deserves for undertaking this mammoth narration? For A Game of Thrones, Dotrice holds the Guinness World Record for the greatest number of characters voiced in an audiobook: 224 characters – and that's just in one book.
Happy listening!